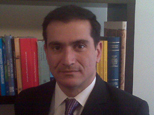 Gustavo Palacio is one of the leading intellectual property lawyers in Colombia.  His experience includes government service as group leader in the   Ministry of Industry and Commerce and head of the legal division in the Copyright Office as well as commercial engagements by providing legal and government affairs consulting services to multinational companies.  This mixture of public and private background makes Gustavo an extremely well connected and valuable SMG associate.
Today as a partner in the prestigious firm of Rubio, Oramas and Associates he continues to hold strategic positions in major organizations.  Gustavo is the Director for the recording industry trade group, APDIF,  the President of the Colombian Association of Industrial Property, ACPI, and a fellow of the World Intellectual Property Organization, WIPO.  Many organizations seek him out as guest speaker in international forums such as CERLALC, IDLO and WIPO.  The police authorities and prosecutors  in Colombia also rely on Gustavo for training on intellectual property rights enforcement.
To share his experience and knowledge, he teaches undergraduate and graduate legal courses at his Alma Mater, the Pontificia Universidad Javeriana de Bogota.
Contact Information
email:  gustavo.palacio@smgconsultingservices.com
Tel:  57.1.622.7226